Pittsburgh!

I have been spending a lot of time trying to figure out the roads down here. They are a LOT different than in Michigan. You can't make 4 left turns and expect to end up in the same place. You also have to know what roads to take in advance. In order to go to a town to the northeast you may need to head southwest for a bit to find a road that will actually get you there. They tell me that this is because of all of the hills. When you come to visit me you will see what I mean. Hopefully I will have them figured out well enough to give you all good directions when you come to visit. Just to get you all an idea of what Pittburgh is like I went out today and took some pictures from on top of Mt. Washington. You can even see my apartment from there even though its like 5 miles away. I tried to zoom in to point out where I am. Just follow the first series of pictures.

My apartment is pretty cool, and with all of the new stores, bars and restaurants going in, the nightlife is getting better all the time. I am basically at the end of the street (Carson Street) that has all of the bars. Someone told me today that there are 138 bars in southside. I think that there are probably 20 or more down Carson Street. There are a few bars just outside my door, but the most popular ones are down a ways. They arent the "club" type bars, those are in the "Strip District" and apparently they have dresscodes that prevent you from getting in if you are wearing Jeans or a shirt that isn't button up. I probably wont go to those often. The bars on Carson Street are all pretty small and vary greatly in appearance from old and sort of scary to preppy, cost you an arm and a leg types. Most of the bars have extremely cheap drinks. One place has University night on Thurs. with $0.50 Miller Light Drafts. Most places have $1-2 pints of domestics. There is one place Called Fat Heads that has a bunch of microbrews, but they are pricey. My freind Eric's favorite Michigan brew, Bells Oberon, is served there (cost is $4.50/pint).

For those of you who want to go clothes shopping. The Southside Works, visible under construction below, is an outdoor mall basically. It will be under construction for years to come as the buildings are built as stores arrive. There are a bunch of fancy places that I would never shop in, but some of you might. You may be interested in the fact that PA has no sales tax on clothes, so you automatically save yourself 6% on every purchase down here!

For those of you interested in fishing. The Monongahela River runs through my backyard. There is a long bike trail/old railroad bed tat runs along it, and a large park down along the river. I see people fishing there all the time and have heard stories of huge catfish being caught. Apparently someone in Pittsburgh caught a state record 110 lb. Blue Catfish in the area the other day. Not sure which of the three rivers, but the "Mon" should have some like that in it and I plan to try to catch one! I'll let you know how much an out of state license is when I get one later this week.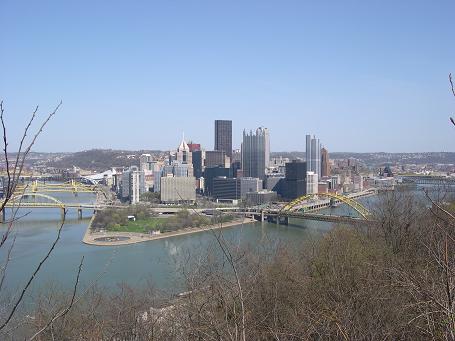 Pittburgh at the confluence of the Allegheney and Monongahela Rivers that form the Ohio River. There are some BIG catfish down there!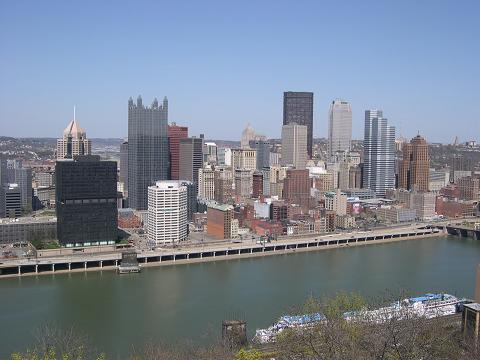 Downtown Pittsburgh.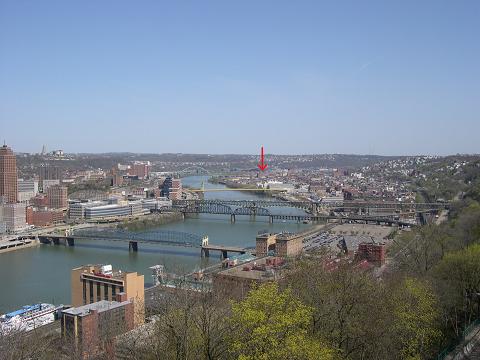 Looking east of downtown, upstream on the "Mon" you can see an arrow pointing at a red building that appears in the picture of the entrance to my apartment complex. The red building will be an REI store with all sorts of camping, hiking, and backpacking gear!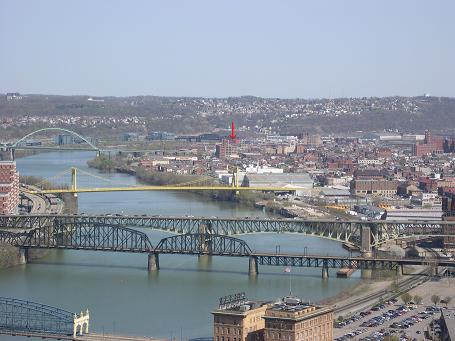 A little closer to the apartment.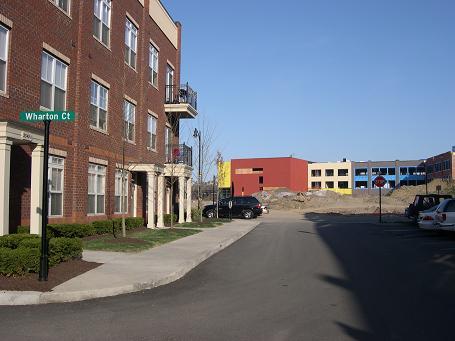 The brick building is our complex. The red building is the future REI store that I mentioned earlier. The dirt piles are supposed to become a park.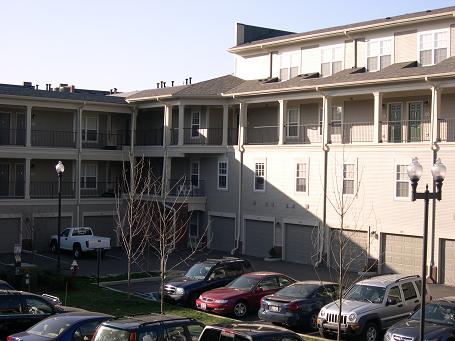 Dana and I will be in apartment 9C, which is on the 3rd floor on the inside corner of the building.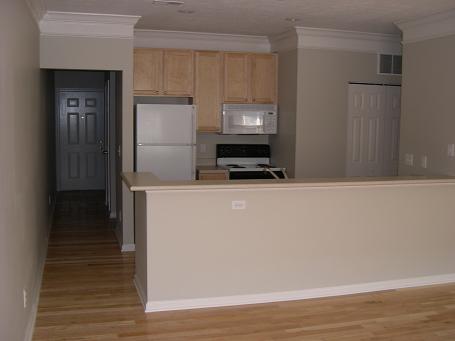 This is the kitchenette and the hallway to my vacancy/temporary apartment. This one has the hardwood floors, but ours wont :>( I will miss them.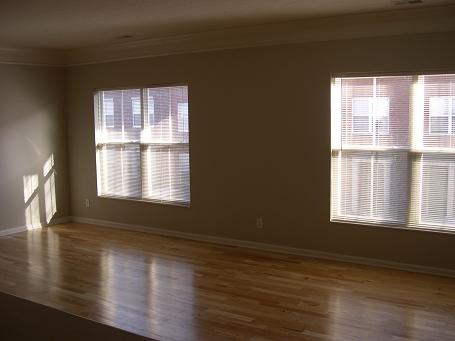 Living room of my temporary place.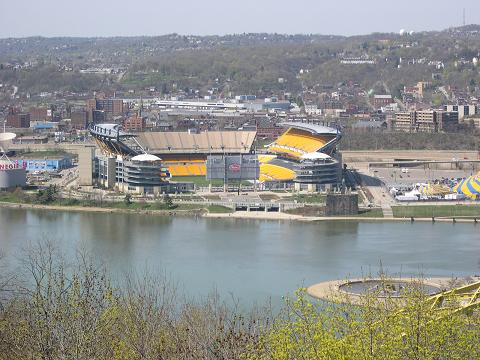 Just West across the river from downtown is Heinz Field, where the stealers play. There are some boats at the bottom of the picture of downtown Pittsburgh that take people over to the stadium from "Station Square" (a part of Pittsburgh that is between Southside and downtown).