My x-girlfreind and I backpacked the Manistee River Trail starting at a campground west of Cadillac. It was a 10 mile hike south along the river to Red Bridge rd. Then a 10 mile hike back north along the west side of the river on the North Country Trail. The trip totaled 20.2 miles and we backpacked it in about 3 days. I recomend the Manistee River trail to anyone who is just starting to backpack. The North Country Trail is a bit more difficult. However, Wendy and I both liked the North Country Trail a bit better because there were fewer people.
The Manistee River Trail (East side of the river) was fairly flat with few hills over 150 or so vertical feet. There were abundant streams from which to refill water bottles. We expected the same terrain along the west side of the river on the North Country Trail, but were very surprised at the difference. There was only one stream along the entire 10 mile stretch and it was only about 2 miles from the end of our trip. That made for an interesting night because we didn't know how much water we would have to get by for the next day so we had to conserve. The NCT was mapped out poorly as well and we never knew much about where on the trail we were. The most striking difference was definately the "hills" which were more like small mountains. Some had to be over 600 vertical feet. We had to stop multiple times for breaks going up those hills, but the views were always great from the tops. It made the effort worth the while, not to mention the excercise is always a good thing :)
Towards the end of the hike all we could think about was how great it would be to have a nice juicy "WHOPPER" with cheese from BK. We kept on talking about getting to Burger King for the last mile or so of the hike. Once we got to Cadillac we stopped dreaming and started eating. We actually didn't get whoppers though because the Angus burgers looked a lot better. That was some of the best BK I have ever had :) It was like water at wrestling practice.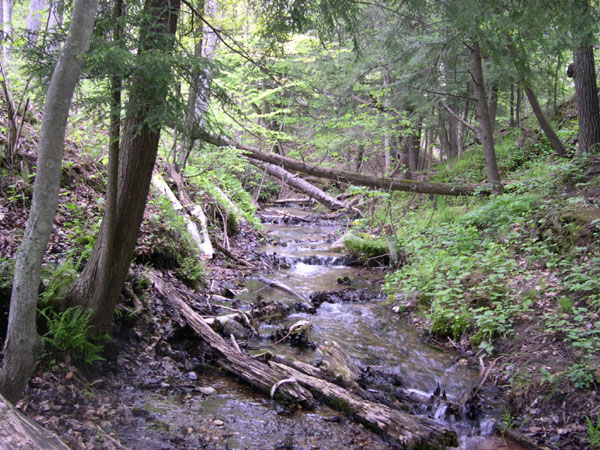 A pretty view of one of the streams along the Manistee River Trail.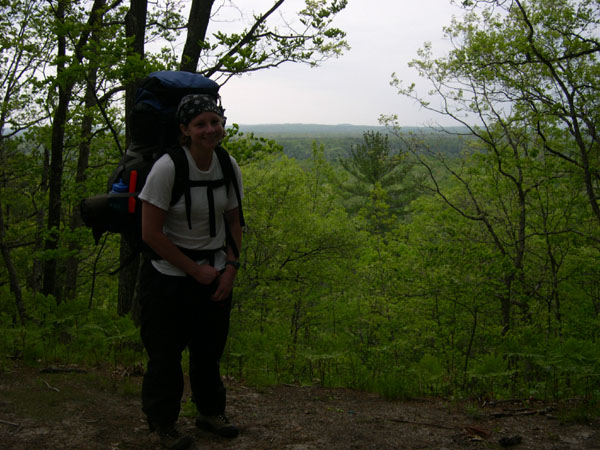 Wendy at the top of one of the big hills. The picture doesn't do the scene justice. You had to be there to appreciate the view I guess.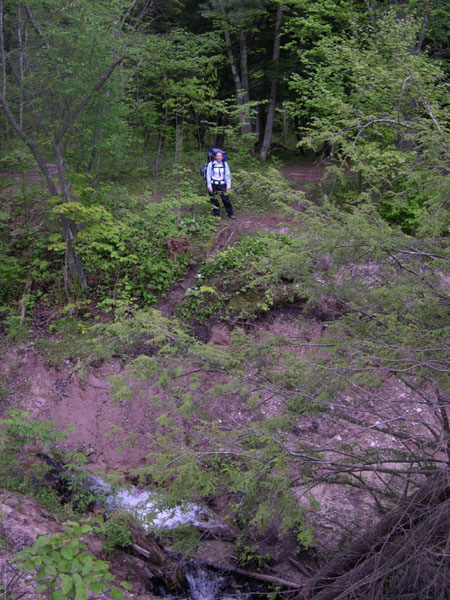 Wendy standing above one of the many streams along the east side of the manistee river on the Manistee River Trail.